Islamism is rising across Indonesia, where a toxic mix of religion and political opportunism has been percolating for some time. By Krithika Varagur in Banda Aceh
It was the young who came first to Indonesia's public caning of gay men. They arrived on motorbikes and on foot, from nearby boarding houses and two universities, some skipping class and the others using up their holidays. An announcement was made barring children under 18, but some stayed anyway, reluctant to break up a family outing.
By 10am on Tuesday, a 1,000-strong crowd had congealed at the Syuhada mosque plaza in Banda Aceh. As someone sang a stirring Qur'anic hymn to inaugurate the ceremony, a verse about how God created man and woman in couples, young men were perched in the trees, on trucks, and all the balconies across the street. Girls huddled between jasmine bushes.
"It's a lesson for us, and it's a lesson near us," said Ratna, 20, a student at Syiah Kuala University, who was one of the first to arrive. She, like more than a dozen young people interviewed by the Guardian, doesn't know a single gay person and believes homosexuality is a crime.
Ten people were flogged that day on a stage by a masked, gloved man in mud-brown robes with cartoonish eye-holes and a yellow-string halo. Four of them were women, lashed for adultery.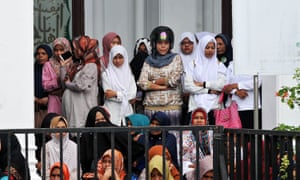 But the most severely punished were the two young gay men, aged 20 and 23, who were filmed, apparently naked, together in March by Islamic vigilantes. They were the ones who lured the unusually large and fierce crowd.
What transpired in Aceh this week is, on one level, the logical extension of sharia in an unruly region that has long been left to its own devices. But many believe that it is more sinister than that: that Aceh's visible conservatism is an emblem of rising Islamism across Indonesia, where a toxic mix of religion and political opportunism has been percolating for some time.
Earlier this month, the Christian governor of Jakarta, Basuki "Ahok" Tjahaha Purnama, was jailed for blasphemy in a ruling that shocked many in the country and outside – including near neighbour and regional ally Australia.
Ahok, who is of Chinese descent, had sought to extend his tenure as governor of the capital. During the campaign, he had questioned the legitimacy of a Qur'anic verse about electing non-Muslim leaders. It triggered a vicious, racially charged fight against him that led to his sound defeat by a Muslim rival and a court appearance. He was sentenced to two years for his remarks, effective immediately.
Some believe the same fate could await another Chinese Christian governor, Cornelis of West Kalimantan, who has stoked the ire of hardliners by publicly warning radicals to leave his province.
And only this week – even as the stage was being prepared for Aceh's public flogging – police in Jakarta arrested 141 gay men in a sauna, even though homosexuality is not against federal law.
"Sharia is contagious," said Andreas Harsono, a researcher with Human Rights Watch Indonesia, about the timing of these events.
Dede Oetomo, a prominent gay rights activist based in East Java, doesn't hesitate to connect the dots further. "In the grand scheme of things, yes, I think this combination of events constitutes a warm-up for the 2019 national elections," he told the Guardian.
If current events are a sneak preview of identity politicking, the next presidential election, when the president, Joko Widodo – seen as a moderate, globalist leader – runs for re-election, will be the uncut feature. Many wonder what a Jokowi loss would mean for Indonesia's fragile secular establishment.
"A major argument of conservative hardliners is that, 'we will guard you from these awful people' – gay people, non-Muslims," said Oetomo. And frankly, he said, that's pretty attractive to many middle-class voters.
These culture wars are unfolding locally and nationally. Modern Indonesia has been one long lesson in the latent, populist appeal of religion, identity, and tradition against the secular, globalist designs of its postcolonial nation-builders such as Sukarno. When the media and press became free in 1998, after the fall of Suharto, conservative and religious voices were finally allowed to proliferate, and they often spoke louder than the state-controlled liberal rhetoric.
At the centre of this current maelstrom is the Islamic Defenders Front, or FPI, a fringe group that now seems to set the national agenda on everything from politics to minority rights. The group – founded, not incidentally, in 1998 – has been the surprising lightning rod for Indonesia's Islamist turn.
But its prominence didn't come from nowhere; the group has been cannily opportunistic in helping vulnerable people at inflection points such as the 2004 tsunami. Then FPI members fished Acehnese bodies from the ocean, says Faisal Riza, another Acehnese gay rights activist. It brought them a steady, continuing current of goodwill. In Jakarta last year, FPI became standby heroes for thousands of poor Jakartans evicted by Ahok, creating instant grassroots support for their later rallies against the "blaspheming" governor.
The FPI has long anointed itself as Indonesia's unofficial morality police. But it has not always been this powerful in Aceh. The province is dubbed "Mecca's veranda" and is thought to be the point of entry for Islam in medieval Indonesia. It has posted fierce, successive independence movements against Dutch, Japanese, and Indonesian rule, the last of which abruptly ended with the calamitous tsunami.
Aceh was granted autonomy to apply sharia in 2001, and allowed to keep it under the post-tsunami national peace agreement. The question many observers ask is whether this decision was a successful containment measure or a dangerous precedent for the values that can be accommodated within an Indonesian province.
Whichever the case, FPI and Acehnese jurisprudence are now intertwined.
Although there has been sharia for more than a decade, it was FPI's thuggish antics that made homosexuality a hot-button issue, according to Riza. Those started in earnest during a widespread "gay panic" in Indonesia last year. Before that, said Riza, who was born and raised in Aceh, there was a "don't ask don't tell" climate that made gay life essentially tolerable.
In Banda Aceh, a 20-something transgender man told the Guardian of his fear of the current climate.
Speaking at small shop he runs in town, he said: "I'm scared to be out in public now.
"I don't want them to know my face. It's not illegal, even under sharia, to be trans or anything like that," he said. "But FPI operates outside the law."
He speaks only a short motorcycle ride from the stage where the law of Aceh is being prosecuted.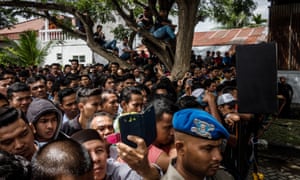 Four women were the first up for their punishment. The convicted adulterers, dressed in mismatched skirts and tunics, shielding their faces with nylon hijabs as they entered the jeering crowd. FPI members had earlier unfurled a banner in front of the stage that proclaimed their willingness to be sacrificed to protect the Qu'ran.
When it was each one's turn to be flogged, she was given a spotless white cotton robe and veil, turning her briefly into an icon, or a vessel. The men who caned them observed a precise technique (a 90-degree angle to the upper back) under police scrutiny.
The last two offenders were the young gay couple. Their punishment was so great that not one but three masked floggers were on call to split their burdens.
The older one, a 23-year-old with a delicate curly beard, had a still forbearance for his 83 lashes. His partner though, just 20, visibly shook as his pain was delivered. He was small, so small that the white sleeves of his tunic fully covered his hands, and his eyelids fluttered before he was struck even once. He was offered a water break halfway through and drained a little plastic cup without once opening his eyes. Both of them were let off with two fewer lashes than they were initially prescribed, to account for their two long months in detention.
"It's not good to watch people be punished because someone will, in turn, watch us sin some day," said Nurleili, 65, a lifelong Banda Aceh resident. "And yet, I really wanted to know. What this punishment actually looks like. I'm afraid and sad: my heart is beating out of my chest. But this will be a good lesson for our kids."
For Aceh's small LGBT community, there are still slivers of hope. There was, Riza pointed out, a brave transgender woman at the caning ceremony, who showed up as a form of protest and walked out, unruffled, when the sharia police pressured her to leave the premises.
After the ceremony, another gay rights activist Hartoyo worked non-stop to locate the gay victims on social media, and by Tuesday night, had arranged an emergency fund for the couple's recovery. This despite the fact that his own profile made him a moving target for local thugs, relocating interviews from a Catholic church, to a bakery, to an undistinguished hotel.
"Our activism may be underground now, but we're not leaving," he said. "Yet."